Mobile App Development Adelaide
Guiding you through the process
 of mobile app development to 
meet your business goals
Before we even start the development process, our focus is on helping you validate the uniqueness of the idea behind the application, and clarifying its "point of difference".
We ensure that you have focus and clarity on the apps core purpose and which audience you are targeting. We then help you clearly define the scope of the idea, balancing design, features and budget – clearly communicating and educating you on how to control and limit your risk.
Utilising forward-thinking technologies like Flutter and Firebase by Google, save you money by allowing us to build great apps across both iOS and Android devices.
5
Year Average Customer Lifespan
9/10
Average Customer Feedback
Why Flutter is the leading choice for cross platform mobile app development
Create and maintain one codebase for all platforms (iOS and Android)
Only maintain one code (rather than two separate ones if you used native apps) saving you money
Design pixel perfect screens every time
Flutter's extended library of widgets means almost anything is possible!



Looking to develop a react native or native app?
Although we do not specialise in developing react native or native apps, we would still love to talk to you and discuss how we think we could make Flutter work for you and potentially save you money.


Scalable, portable, secure enterprise mobile applications that serves the needs of your customer, employees or partners
All our apps are built with these important factors in mind. We don't think about just serving your current needs, but also your needs for the future. That's why we're always keeping up to date with the latest developments and technologies, to ensure that your app can grow with your business.
How our process works
Strategy Session & Idea Discussion
Our FREE strategy session is where we understand your goals, aspirations and your idea. We then provide a truck load of tailored advice on how to succeed.
Estimated time: 1 week
Planning & Design
We then delve into detailed workshops to give you clarity on what you're going to get, a fixed cost, and the return on investment. You get a vision of the end result.
Estimated time: 2-4 weeks
Development
We get down and dirty, and start to build your idea to life. This is still a highly interactive process, with regular "sneak-peeks" into the product.

Estimated time: Dependent on size of project
Go-Live & Training
All that planning, research, analysis, design, development… it all becomes "real". We hold your hand in launching your new app to the world (or wherever its new home may be).

Support, Maintenance & Continuous Improvement​
We make sure that you and your new-born app gets the love and care it deserves: regular updates, maintenance, support, ongoing tweaks and fine-tuning.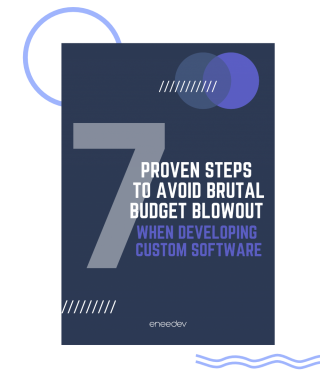 The 7 Proven Steps to Avoid Brutal Budget Blowout
Within this document we outline the exact process we have created, and now follow to the letter, to avoid budget blowout after a decade of developing custom software solutions for our clients.
Frequently Asked Questions
For mobile apps, do I need to have an iOS app or an Android app developed?

With other app companies, this would be a key consideration – determining which platform to develop for first.

Traditionally, it requires different skill sets, and therefore extra cost to build for both platforms.

Luckily with Enee, our unique process and technologies allow us to develop your application once, and deliver to both platforms together!

How long does it take to build custom software?

It's difficult to predict exactly how long a web or mobile app will take to complete. This is heavily dependent on the size and scope of the project.

Smaller custom applications can start from as little as a couple months, and larger projects can take much longer depending on the scale of the scope and budget constraints.

We have teams of developers available to speed up development as per your requirements, so it's best to get in touch and we can discuss and provide an estimate specific to your app requirements.

How much does custom software cost to develop?

We are experts in finding a solution that will fit any reasonable budget.

Realistically, you will need at least $10,000 budget at the lowest end of the spectrum. However, it is very hard to provide an accurate figure until we discuss your idea with you. Price is heavily dependent on the scope of your idea, the size of the app and the functionality you are aiming to achieve.

We have a great process to help you get a true cost with a realistic ROI, while reducing your risks along the way.

What is the ongoing cost?

Ongoing maintenance and management is quoted on a case by case basis, and is highly dependant on the software developed.

What do I need to get started?

You'll need a clear idea of an opportunity to take advantage of, or problem that you need solving.

These could be things like a major inefficiency in your business that you would like to solve, or a clear goal/objective you would like to achieve. If you have already started thinking in terms of software, other information that is useful is a target audience (who will be the users, stakeholders and beneficiaries) and any specific features and functionality that you'd like to have.

While we provide you with the information in regards to how much things will cost, it is also important that you have an idea of how much you can spend, so that we can discuss and propose a solution that best fits your budget.

It's okay if all this information is rough. It is common to be uncertain, and ideas to be fuzzy. We can help you refine the details. Once you have thought about that information, get in touch and we can help you get started!

Training staff is going to be a big task - how do we do this?

All technology projects need to always consider three things; the technology itself, the business processes and the people using the technology.

Our focus on people and process makes sure that we fully consider the end users and how they will interact with the application as part of their day to day work. This then culminates in the preparation of full user documentation and training packages as part of our deliverables.

We then work with the business to ensure this is delivered in the best way possible to end users and staff - whether that is through online, self-paced or in person sessions using our team, or alongside an internal training and development team or program. We aim to make sure this is carefully considered and as hassle free for you as possible.

What if things go wrong and the software breaks? What type of support is in place?

We have a fully bespoke approach to ongoing maintenance and support of any software project that is implemented. It can be as much or as little as your business requires.

Does your business need a comprehensive support package that ensures the application is maintained and monitored over time, that features are continually improved and new features are developed as per the business requirements, with a fully staffed end-user helpdesk? We have you covered! Or would you rather your existing technology support team is trained up to support end users, and the majority of the ongoing management is handled internally, and we are only involved as a backup team when needed? Not a problem either!

Whatever the ongoing support and maintenance needs of your organisation are, we can accommodate.
Take the first step to develop the best custom software for your business
With our FREE no obligation initial consult, we can provide information and advice based on our experience, specific to your business. You'll leave with a better understanding of your idea and a clear direction of the next steps. We guarantee it!