Build the best custom business software with the support of an expert development team
Custom Software Development Adelaide
Enee partners with your business to develop the best custom software, tailored to your needs
Ready to radically change and disrupt the way that you cater to your customer base? Developing custom software for your business could be just the thing you need! Whether it's developing a custom customer relationship management system, learning management system, compliance software or a system to streamline a unique business process, we can help with it all.
We like to keep things clear, transparent and surprise-free. That's why regular communication and your involvement is so important to us. Each week you'll meet with your dedicated project manager where you'll be able to see real results and provide timely feedback to ensure we are always on track.
5
Year Average Customer Lifespan
9/10
Average Customer Feedback
Common custom software solutions
Here is a list of some of the custom software solutions we've been able to provide to our customers.
Learning Management Software
Your unique LMS will be developed to handle all aspects of the learning process.
ERP Software
Integrate and manage all your business processes in a unique way that meets the requirements of your business
Disaster Recovery Software
Develop software that assists in the recovery of software in the event of a computer, server or infrastructure failure.
CRM Software
Collect customer relationship data, manage and full customise the system in a way that makes sense for your business
Dashboard Software
Visually display key sets of data and metrics for your business from multiple sources
Compliance Software
Develop software specific to your industry so that you always stay protected and compliant
Charity and Fundraising Software
Raise funds, create events, manage teams, take care of payments and more within your own charity and fundraising software.
Business Continuity Software
Gather information about critical processes and generate BCP and BIA reports to prepare for disruptions to your business.
Working with Laravel
Laravel is one of the most powerful and popular PHP frameworks available. It is a highly expressive and elegant framework that allows development teams to create beautiful and highly maintainable code.
It provides the foundations to build any type of app from a robust backend API to be accessed by another business system or mobile app, or as a full self-contained Frontend and Backend for your new ERP or customer portal.
Laravel is desiged with scalability in mind, so when built right, your app and hosting infrastructure can continue to grow with your business. So, if you are thinking of developing your own custom software or web app, speak to us so we can help you take advantage of this awesome framework!
How our process works
From reviewing your business requirements, to planning, to developing your MVP we'll be there each step of the project
Strategy Session & Idea Discussion
Our FREE strategy session is where we understand your goals, aspirations and your idea. We then provide a truck load of tailored advice on how to succeed.
Estimated time: 1 week
Planning & Design
We then delve into detailed workshops to give you clarity on what you're going to get, a fixed cost, and the return on investment. You get a vision of the end result.
Estimated time: 2-4 weeks
Development
We get down and dirty, and start to build your idea to life. This is still a highly interactive process, with regular "sneak-peeks" into the product.

Estimated time: Dependent on size of project
Go-Live & Training
All that planning, research, analysis, design, development… it all becomes "real". We hold your hand in launching your new app to the world (or wherever its new home may be).

Support, Maintenance & Continuous Improvement​
We make sure that you and your new-born app gets the love and care it deserves: regular updates, maintenance, support, ongoing tweaks and fine-tuning.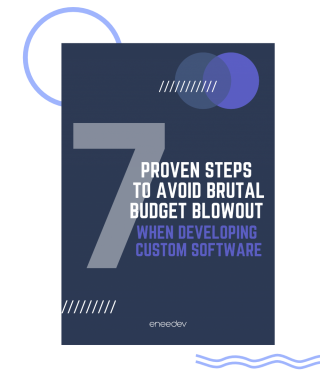 The 7 Proven Steps to Avoid Brutal Budget Blowout
Within this document we outline the exact process we have created, and now follow to the letter, to avoid budget blowout after a decade of developing custom software solutions for our clients.
Frequently Asked Questions
What do I need to get started?

You'll need a clear idea of an opportunity to take advantage of, or problem that you need solving.

These could be things like a major inefficiency in your business that you would like to solve, or a clear goal/objective you would like to achieve. If you have already started thinking in terms of software, other information that is useful is a target audience (who will be the users, stakeholders and beneficiaries) and any specific features and functionality that you'd like to have.

While we provide you with the information in regards to how much things will cost, it is also important that you have an idea of how much you can spend, so that we can discuss and propose a solution that best fits your budget.

It's okay if all this information is rough. It is common to be uncertain, and ideas to be fuzzy. We can help you refine the details. Once you have thought about that information, get in touch and we can help you get started!

What is the benefit of a custom software over a commercial off-the-shelf app?

If a commercial off-the-shelf application meets the large majority of your software needs, it is often the best choice to purchase or subscribe to the existing service, as opposed to developing a custom web application specifically for your business.

However, there are many reasons a custom or bespoke web app becomes a worthy business investment:

The commercial options are over-complicated and extremely expensive for your requirements, or too simple and do not fit your business processes

You may have identified a unique opportunity to automate or innovate in your business, that has not been implemented by other software products as you require

You may have identified an opportunity to commercialise an idea or disrupt existing application

The options are endless! And we are here to help you navigate the complexities of assessing this business decision. Get in touch and we can start discussions with you.

How long does it take to build custom software?

It's difficult to predict exactly how long a web or mobile app will take to complete. This is heavily dependent on the size and scope of the project.

Smaller custom applications can start from as little as a couple months, and larger projects can take much longer depending on the scale of the scope and budget constraints.

We have teams of developers available to speed up development as per your requirements, so it's best to get in touch and we can discuss and provide an estimate specific to your app requirements.

How much does custom software cost to develop?

We are experts in finding a solution that will fit any reasonable budget.

Realistically, you will need at least $10,000 budget at the lowest end of the spectrum. However, it is very hard to provide an accurate figure until we discuss your idea with you. Price is heavily dependent on the scope of your idea, the size of the app and the functionality you are aiming to achieve.

We have a great process to help you get a true cost with a realistic ROI, while reducing your risks along the way.

What can I expect from the process?

Our process (The Enee Way) guides you through the complexities of building an app.

We help you scope and estimate the project, and once our initial estimate has been approved, we sit down with you to flesh out the details, challenge your requirements, detail out the scope, wire-framing and mocking up what the user experience should feel like. All to make sure that we are on the same page and have everything mapped out clearly, before we start development.

Throughout the development process you'll be given a dedicated project manager to keep you in the loop at every stage of the project and to answer any questions or concerns you may have.

Do I have to spend more time digging into this software to get my information or can I customise how I receive the information (e.g. daily email report)?

How the software operates, and how the information is presented to the user is fully customisable and a key consideration of ours during our planning and design process.

Do you need information sent to you daily via email? Do you need a central dashboard that is only one click away at all times? Do you want to avoid remembering a thousand different passwords, and would rather the software just pick up your user account from your computer and automatically log you in, with no extra fuss?

It is all possible and customisable, to your requirements. We make sure the software fits you, your businesses processes and people like a glove.

Do I need another staff member to manage the project or run the software internally?

Not necessarily. We have the team and resources to ensure that the project runs smoothly both on your side of the fence, and ours. When the software is developed and implemented, we also have the ongoing support and maintenance options to ensure that the ongoing maintenance, administration and end user training and support is managed by us also.

With that said, we also have a number of customers who prefer to have internal system "champions" or "super-users", that are trained on the inner workings and complexities of the software, and can provide users with in-house support and guidance, as well as perform the regular internal maintenance and administration. Alternatively, some organisations would rather their internal IT resources and teams are responsible for this task and responsibilities. Whatever the requirement, we will be able to accomodate.

Training staff is going to be a big task - how do we do this?

All technology projects need to always consider three things; the technology itself, the business processes and the people using the technology.

Our focus on people and process makes sure that we fully consider the end users and how they will interact with the application as part of their day to day work. This then culminates in the preparation of full user documentation and training packages as part of our deliverables.

We then work with the business to ensure this is delivered in the best way possible to end users and staff - whether that is through online, self-paced or in person sessions using our team, or alongside an internal training and development team or program. We aim to make sure this is carefully considered and as hassle free for you as possible.

What if things go wrong and the software breaks? What type of support is in place?

We have a fully bespoke approach to ongoing maintenance and support of any software project that is implemented. It can be as much or as little as your business requires.

Does your business need a comprehensive support package that ensures the application is maintained and monitored over time, that features are continually improved and new features are developed as per the business requirements, with a fully staffed end-user helpdesk? We have you covered! Or would you rather your existing technology support team is trained up to support end users, and the majority of the ongoing management is handled internally, and we are only involved as a backup team when needed? Not a problem either!

Whatever the ongoing support and maintenance needs of your organisation are, we can accommodate.

What is the ongoing cost?

Ongoing maintenance and management is quoted on a case by case basis, and is highly dependant on the software developed.
Take the first step to develop the best custom software for your business
With our FREE no obligation initial consult, we can provide information and advice based on our experience, specific to your business. You'll leave with a better understanding of your idea and a clear direction of the next steps. We guarantee it!